Free Download Kathy Reichs - Temperance Brennan series
Deja Dead
(The first book in the Temperance Brennan series)
(1997)
A novel by Kathy Reichs
Kathy Reichs blasts into Patricia Cornwell territory -- and onto the New York Times bestseller list -- with this critically acclaimed debut novel inspired by Reichs' own career. Dr. Temperance Brennan, the wry, impassioned director of forensic anthropology for the province of Quebec, is driven to unravel shocking acts of violence by reading the bones of the dead.
In the year since Tempe left behind a shaky marriage in North Carolina, work has often preempted her weekend plans to explore Quebec. But when an unidentified female corpse is discovered meticulously dismembered and stashed in garbage bags, Tempe detects an alarming pattern within the grisly handiwork -- and her professional detachment gives way to a harrowing search for a killer in the city's winding streets. With little help from the police, Tempe calls on her expertise, honed in the isolated intensity of the autopsy suite, to investigate on her own. But her determined chase is about to place those closest to her -- her best friend and her daughter -- in mortal danger....
htm=188KB, lit=364KB
Death Du Jour
(The second book in the Temperance Brennan series)
(1999)
A novel by Kathy Reichs
March in Montreal: It is a bitterly cold night and in the grounds of an old church forensic anthropologist Dr Temperance Brennan digs carefully. She is there to exhume the remains of a nun proposed for sainthood. But the body has been moved to an unmarked grave in a far corner of the cemetery. What will Tempe discover when the frozen ground finally yields to her tools?Just hours later, Tempe is called to the scene of an horrific arson. A young family has perished, and there seems to be no witness, no motive, no explanation.From the charred remains of the arson, to a trail of sinister cult activity and a terrifying showdown during an ice storm, Tempe gathers her evidence and confronts the terror of a killer out of control. 'Another day. Another death. Death du Jour. My God, how many such days would there be?'
htm=173KB
Deadly Decisions
(The third book in the Temperance Brennan series)
(2000)
A novel by Kathy Reichs
Forensic anthropologist Tempe Brennan is propelled from north to south when a nine-year-old girl is brutally shot on a Montreal street and the remains of a missing North Carolina teenager are found hundreds of miles away. The connection between the crimes leads Brennan into a bizarre culture of outlaw motorcycle gangs, where one misstep can bring disaster.
lit=369KB, htm=136KB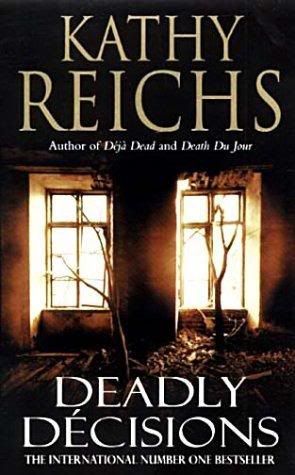 Fatal Voyage
(The fourth book in the Temperance Brennan series)
(2001)
A novel by Kathy Reichs
When a plane crashes high in the mountains of North Carolina, Tempe Brennan is one of the first on the scene. As a forensic anthropologist for the state, she serves on the region's disaster response team. The task that confronts her is a sad and sickening one. Putting normal life on hold, she and her colleagues must painstakingly identify the victims. A chance discovery concerns her: a severed foot, well away from the main crash site. A deserted house close by is buried so deep in the woods that locals claim to know nothing of its existence. And her examination of the foot throws up more questions than it answers. Before she can make any progress Tempe's professional standing is threatened. But she fears that, air tragedy aside, another corpse lies somewhere in the woods. Pitting herself against a conspiracy of silence, Tempe vows to bring justice for her mystery victim.
html=376KB, lit=325KB
Grave Secrets
(The fifth book in the Temperance Brennan series)
(2002)
A novel by Kathy Reichs
Dr. Temperance Brennan, forensic anthropologist for the medical examiners in Montreal and North Carolina, departs from home turf to journey to Guatemala, where her skills will be tested to the limit. It was a summer morning in 1982 when soldiers entered the village of Chupan Ya and rounded up the women and children. Families and neighbors refer to their lost members as "the disappeared". The bodies are said to lie in a mass grave. Tempe brings all her skill to uncover the savagery of the past. But something savage is happening today. Four girls are missing from Guatemala City, including the daughter of a high-ranking government official. When a young archaeologist is brutally murdered, Tempe realizes that she may be the next victim in a web of intrigue that connects the historical and contemporary murders.
html=146KB, lit=336KB
Bare Bones
(The sixth book in the Temperance Brennan series)
(2003)
A novel by Kathy Reichs
It's a summer of record-breaking heat in Charlotte, North Carolina and Dr Temperance Brennan is looking forward to her first vacation in years. She's almost out the door when the bones start appearing. First there's the newborn skeleton found in a wood stove. Who put the baby there? The mother, hardly more than a child herself, has disappeared. Next, a small plane flies into a rock face on a sunny afternoon. Both pilot and passenger are burned beyond recognition, their bodies covered with a strange black substance. What could it be? What sinister mission might the two have been on? Most puzzling is a cache of bones unearthed in a remote corner of the county. Some animal, some human, the bones are enough to keep Tempe busy for a long time. All the pieces of the mystery seem to lead back to an isolated farm. But what happened there and who will be the next victim? Tempe must find the answers by teasing secrets from the bones - if only she can decipher them in time... A superb new thriller from the number one bestselling author of Grave Secrets.
html=270KB, lit=320KB
Monday Mourning
(The seventh book in the Temperance Brennan series)
(2004)
A novel by Kathy Reichs
Library Journal
Tempe Brennan confirms that the bones she has just dug up in the basement of a pizza parlor aren't ancient relics, but she's beginning to wonder whether she's a relic when her boyfriend starts acting distant. Copyright 2004 Reed Business Information.
Kirkus Reviews
The freezing Montreal winter turns even colder when blue-eyed cop Andrew Ryan is too busy mounting a sting operation and squiring a fetching youngster around to pay much attention to the forensic anthropologist who's his sometime squeeze. Temperance Brennan can't even turn to her chum Anne for much solace because Anne, on a leave of absence from her marriage, is needy herself. Work is no consolation either, since Tempe is facing a riddle she can't solve. How old are the girls' bones discovered under a pizza shop? Maybe a hundred years, maybe less. Homicide cops Claudel and Charbonneau have more pressing matters to deal with-that sting, for instance. So Tempe goes a-hunting, determined to identify whose bones they are and what their history was. She uncovers a possible link to Montreal Mafioso Nick "The Knife" Cataneo and even stronger ties to a smarmy pawnbroker and his terrified girlfriend. But it is 21st-century forensic wizardry that leads Tempe to stomach-churning confrontations in which many are revealed to have been tortured, one more dies, Anne is concussed, and Tempe herself is practically incinerated. Knowledgeable and brave enough to outgore Patricia Cornwell, Reichs (Bare Bones, 2003, etc.) still can't balance her love of science-think carbon-dating for dummies-with her passion for Grand Guignol. Some sassy repartee, but mostly lots and lots of bodies.
rtf=127KB
Cross Bones
(The eighth book in the Temperance Brennan series)
(2005)
A novel by Kathy Reichs
The latest gripping thriller from world class forensic anthropologist, Kathy Reichs, bestselling author of Bare Bones and Monday Mourning Temperance Brennan has a mystifying new case in this eighth novel from New York Times bestselling author and world-class forensic anthropologist Kathy Reichs. Tempe is called in to interpret the wounds of a man who was shot in the head, but while she tries to make sense of the fracture patterning, an unknown man slips her a photograph of a skeleton, telling her it holds the answer to the victim's death. Detective Andrew Ryan is also on the case and, as his relationship with Tempe heats up, together they try to figure out who this orthodox Jew in the Israeli "import business" really was. Was he involved in the black market trade in antiquities? And what is the significance of the photo? With the help of Jacob Drum, a biblical archaeologist and old friend from the University of North Carolina, Tempe follows the trail of clues all the way to Israel. In the Holy Land, she learns of a strange ossuary at Masada, a shroud, and a tomb that may have held the remains of Jesus's family. But the further she probes into the identity of the ancient skeleton, the more she seems to be putting herself in danger...
html=143KB, lit=542KB, doc=494KB
Break No Bones
(The ninth book in the Temperance Brennan series)
(2006)
A novel by Kathy Reichs
It's the second-to-last day of archaeological field school. Dr Temperance Brennan's students are working on a site of prehistoric graves on Dewees, a barrier island north of Charleston, South Carolina, when a decomposing body is uncovered in a shallow grave off a lonely beach... The skeleton is articulated, the bone fresh and the vertebrae still connected by soft-tissue; the remains are encased in rotted fabric and topped by wisps of pale, blond hair - a recent burial, and a case Tempe must take. Dental remains and skeletal gender and race indicators suggest that the deceased is a middle-aged white male - but who was he? Why was he buried in a clandestine grave? And what does the unusual vertical hairline fracture of the sixth cervical vertebrae signify? While Tempe is trying to piece together the evidence, her personal life is thrown into turmoil. When a bullet - intended, perhaps, for her - puts Tempe's estranged husband Pete in hospital, her unexpectedly emotional response complicates her on-off relationship with Detective Andrew Ryan... But before long, another body is discovered - and Tempe finds herself drawn deeper into a shocking and chilling investigation, set to challenge her entire view of humanity...
lit=335, html=240KB
CODE
Kathy_Reichs_-__Brennan_1__Deja_Dead__htm_.rar (184.06 KB)
Kathy_Reichs_-__Brennan_1__Deja_Dead__lit_.rar (356.04 KB)
Kathy_Reichs_-__Brennan_2__Death_Du_Joure__htm_.rar (169.15 KB)
Kathy_Reichs_-__Brennan_3__Deadly_Decisions__lit_.rar (360.89 KB)
Kathy_Reichs_-__Brennan_3__Deadly_Decisions__v2.0___htm_.rar (133.47 KB)
Kathy_Reichs_-__Brennan_4__Fatal_Voyage__V1.6___html_.rar (368.07 KB)
Kathy_Reichs_-__Brennan_4__Fatal_Voyage__lit_.rar (317.78 KB)
Kathy_Reichs_-__Brennan_5__Grave_Secrets__v1.0___html__jpg_.rar (142.99 KB)
Kathy_Reichs_-__Brennan_5__Grave_Secrets__lit_.rar (328.57 KB)
Kathy_Reichs_-__Brennan_6__Bare_Bones__html_.rar (264.4 KB)
Kathy_Reichs_-__Brennan_6__Bare_Bones__lit_.rar (312.81 KB)
Kathy_Reichs_-__Brennan_7__Monday_Mourning__rtf_.rar (134.63 KB)
Kathy_Reichs_-__Brennan_8__Cross_Bones__doc__jpg_.rar (482.62 KB)
Kathy_Reichs_-__Brennan_8__Cross_Bones__v1.5___html_.rar (139.77 KB)
Kathy_Reichs_-__Brennan_8__Cross_Bones__lit_.rar (529.67 KB)
Kathy_Reichs_-__Brennan_9__-_Break_No_Bones__v1.0___html__jpg_.rar (234.96 KB)
Kathy_Reichs_-__Brennan_9__-_Break_No_Bones__v3.0___lit__.rar (327.18 KB)
Once in a while Please click on ads to help me